SKU: TOMEI-TB401A-TY04A ⓘ
This sku has been copied to your clipboard!
Get the best deal with our price match guarantee.
Contact us today! (239) 270-5116 sales@drifthq.com
Regular price
$1,580.00 USD
Regular price
Sale price
$1,580.00 USD
Unit price
per
Sale
Sold out
Tomei Arms MX Series Turbocharger Kit
CNC Billet Compressor Wheel
Significant improvement over traditional cast compressor wheels. Machined from aerospace grade materials, these highly durable lightweight compressor wheels feature thinner blades with a larger surface area for significantly improved airflow and turbo spool.
Multi Rate Billet Actuator
Large capacity, reinforced billet construction. Includes a total of 6 springs for fine boost adjustments. Swivel type nipple allows for greater freedom when routing hoses.
Combine up to 3 springs to find the perfect setup. 
| | |
| --- | --- |
| BEARING TYPE | JOURNAL BEARING |

 

| | |
| --- | --- |
| INITIAL BOOST SETTING | 1.0 kgf/cm2 |

 
 
 
COMPRESSOR WHEEL
 

TURBINE WHEEL

| | |
| --- | --- |
|   | MX8280 |
| Ⓐ IND(mm) | 61.4 |
| Ⓑ EXD(mm) | 82.0 |
| TRIM | 56 |
| BLADES | 6 |
| MATERIAL | A2618 |
| PRODUCTION | CNC BILLET |

 

| | |
| --- | --- |
|   | MX8280 |
| Ⓒ EXD(mm) | 58.8 |
| Ⓓ IND(mm) | 67.0 |
| TRIM | 77 |
| BLADES | 11 |
| MATERIAL | K418 |
| PRODUCTION | CAST |

 
 
 

COMPRESSOR HOUSING

 

TURBINE HOUSING

| | |
| --- | --- |
|   | MX8280 |
| IND(mm) | 62.4 |
| EXD(mm) | 45.46 |
| A/R | 0.54 |

 

| | |
| --- | --- |
|   | MX8280 |
| IND(mm) | 47.89 |
| EXD(mm) | 1JZ |
| A/R | 0.67 |

 
 
 
View full details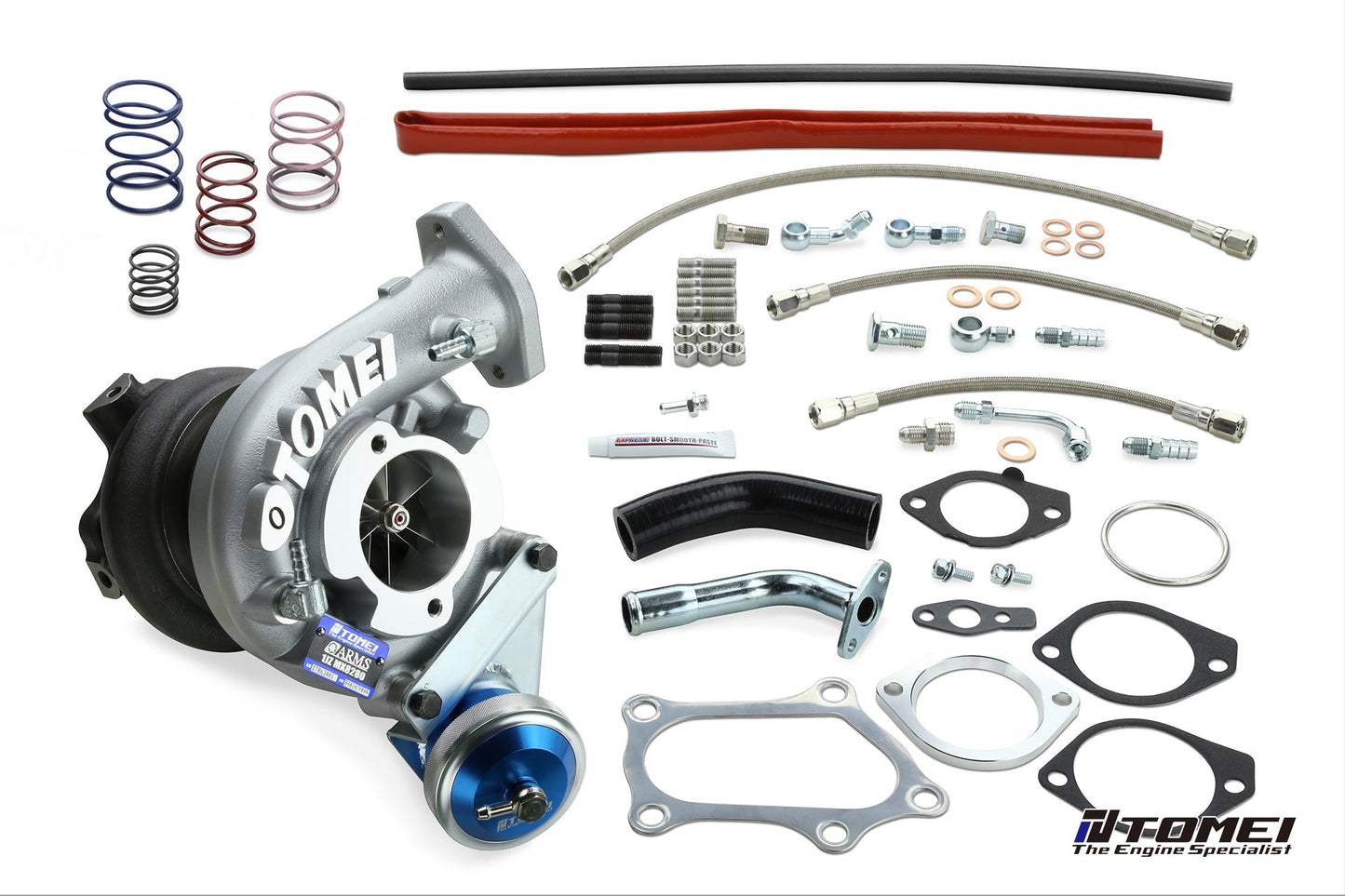 30 days return policy

New products updated daily!

Mon - Fri Customer service